I am so loving my new design! I find myself coming here just to look at the pretty colors. Actually, I was looking at it today at recess (which was inside because it was about 25 below 0...brrrr) and one of Kinders said, "MRS LEE, THAT'S YOU!" Tee Hee! I know! Kassie was amazing to work with and she is so nice! Thanks so much Kassie!
In celebration of my new design, I'd love to do a quick giveaway of a product of your choice. (Up to $5.00 in value!)
All you have to do is visit my store and find the product you'd like for free. Leave the link in the comments and I'll come back tonight to choose the lucky winner. You MUST leave the actual clickable link to the product and not just the name of it. Click the button below to browse my store and get your link!
Here's more great news! My blogging buddy Teri, over at A Cupcake for the Teacher, just got a new blog design too! And she's doing the same giveaway! Just click on her cute cupcake button below to enter her giveaway!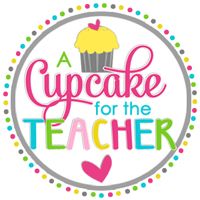 Wait...there's MORE!! My bloggin' buddy Lori,
over at Teaching With Love and Laughter, just got a new blog design too!She is having the same give away! You can head over to her blog by just clicking her pretty pink button!
That's three chances to win!! Good luck!